I just thought that people might want to see this project. Originally posted on Shoryuken.com.
Virtua On: Ontario Tangram Sticks for Xbox made from NES Quickshot controllers.

Work log 01
Ah Virtua On. I had fond memories of playing Virtua On in the arcades, and when it came out on the Saturn, was so happy it to play this at home. It wasn't until much later I found that they released a twin stick accessory for the Saturn in Japan, and when I got a job spent a chunk of change for one on ebay. I used this stick with a converter to play VOOT on my Dreamcast. Over years I've let go of some game stuff including these twinsticks and felt a hankering to play it now that it is on xbox live arcade. I eventually ended up with this to play VOOT.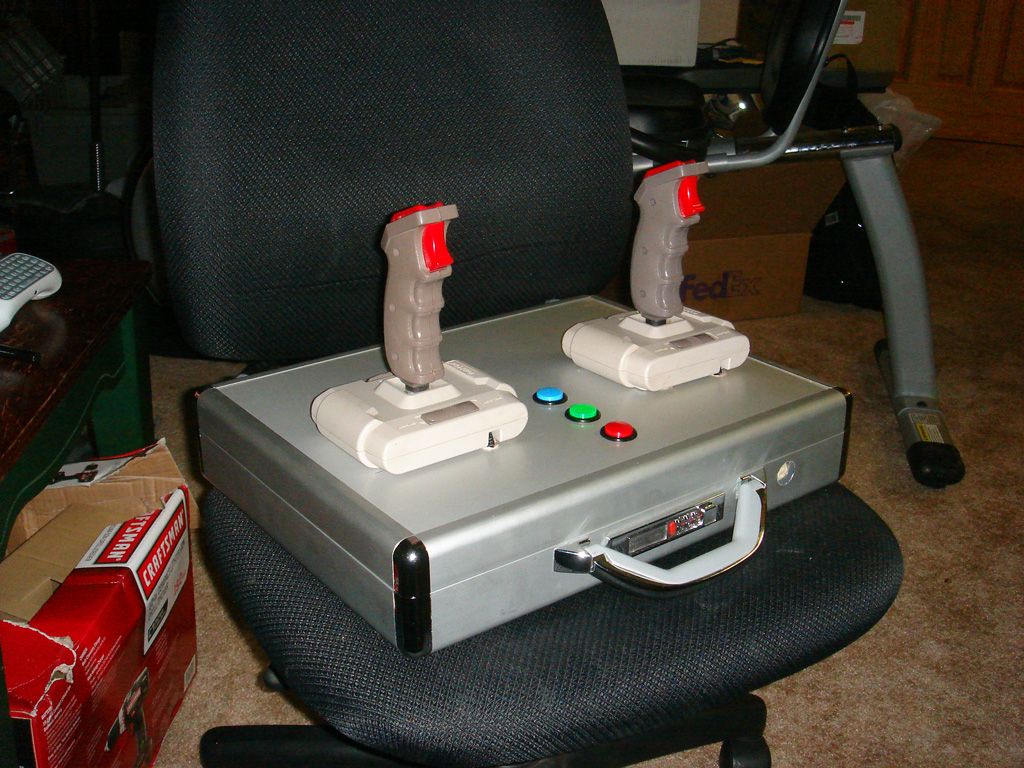 So here is my price breakdown.
$20 for 2 Quickshots on Ebay.
$10 for a bag of wire in 10 colors
$25 for a used madcatz xbox 360 controller. That one happened to be a microcon. 2007 year reccomended.
$4 2 Eurostyle terminal strip used 2 but cut off 4 on the second one.
$12 for 3 24mm Seimitsu buttons. You can use whatever. Momentary contact switch
$5 case sleeve and heat shrink tubing (optional)
$2 5 pack of 10k Ohm Resistors for triggers.
$5 worth of nuts and bolts
$25 Laptop Briefcase from ebay. (you can use what ever box)
Tools needed
$50-200 Drill. Various size twist bits. 3/8 in twist bit, 24mm Forstner or Holesaw.
$30 soldering iron and soldering supplies
Screwdriver. Real men already own a screwdriver. How do you not have a screw driver?
not adding it up but is probably less than that $300 Hori stick you'll probably never get in November, and you get a drill!
The saturn stick was really great, but one of the things I remember about playing on the Saturn sticks was that the base was really small and was easily tipped or moved around so I decided to make my own. I bought a NES Quickshot controller off ebay for about $10 total and opened it up to see if it was possible to use for a X360 twinstick.
Opened it up.
I found that the sticks used a weird spring switch where the joystick actuator pressed down on the spring to engage it.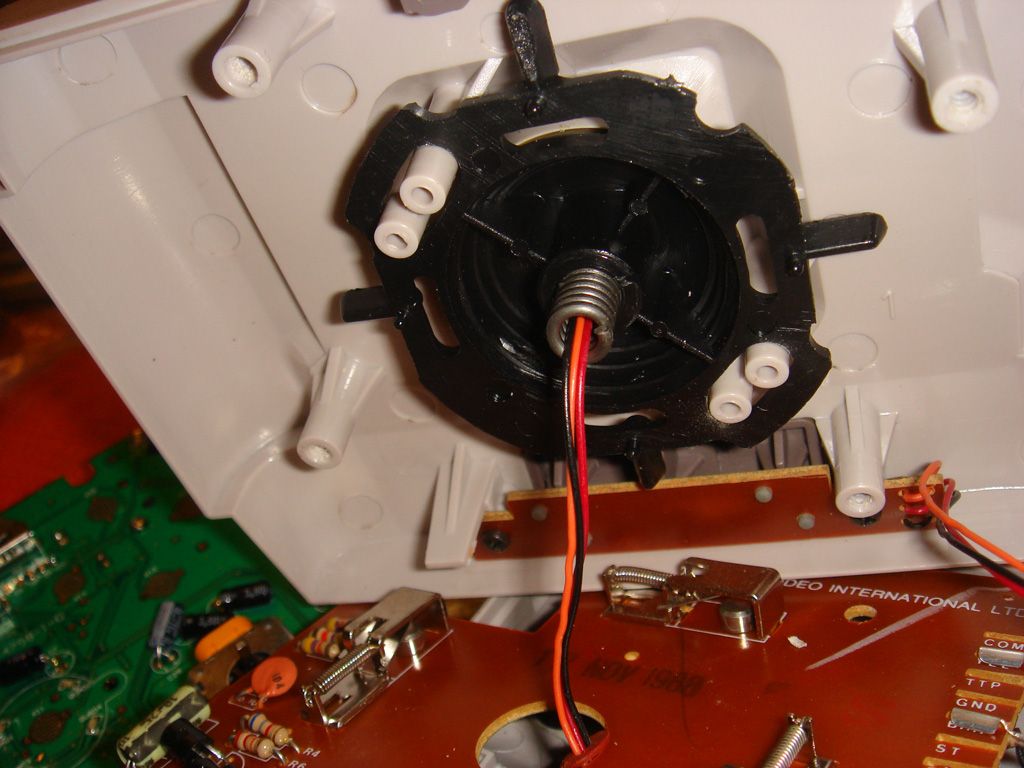 To use this stick I basically had to keep the whole thing intact and wired directly to the PCB since it relied on the structural support of the plastic housing for it to work. Looking at the directional switches, it was obvious to which contacts where the solder points for directions.
I took a multimeter to test if the the switches still worked and traced the wires coming from the shaft. Using a continuity test I determined that the red wire from the shaft would be the thumb button and the orange button was the trigger. I took notes on a piece of paper to record what color corresponds to what button. It looked like it would work, so I promptly got another Quickshot off ebay. And started working on this while waiting for the second one to come in.
I cut off the rubber suction cups on the bottom using a wire cutter. I was going to use the holes to bolt the sticks into the laptop briefcase that I used for the case.
Also I cut the wires leading to the NES cable. I was going to use the cable hole to route the hacked wires into the case.
I then wired the signal parts of the sticks with a soldering iron. I used different color coded wire and wrote down what color corresponds to what direction or button for later use. I used the same colors on the opposite stick when it came in.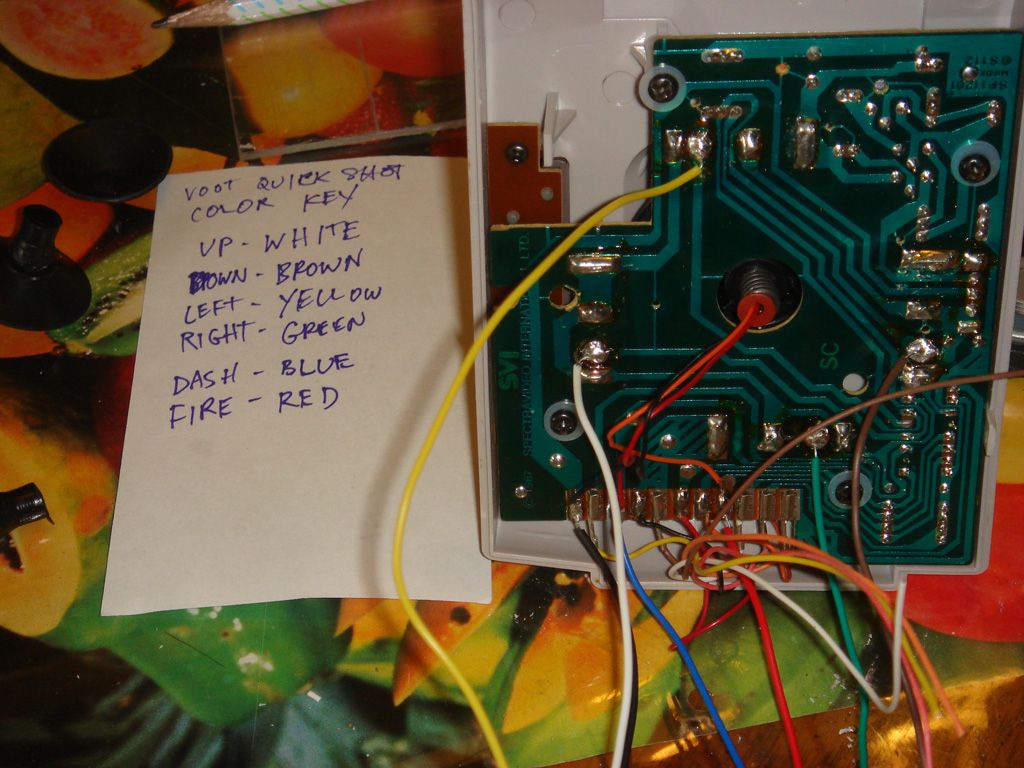 Now the base. I originally got these laptop cases off of ebay for use as an arcade stick case, but when the got to my house, I found that they where a little to big for a Arcade joystick, but now realized that they are the ideal size for twinsticks. The original twinsticks for Dreamcast and Saturn had a base way to small and I recall the base constantly tipping forward or back and the sticks where very close together. I decided to space them about shoulder width apart.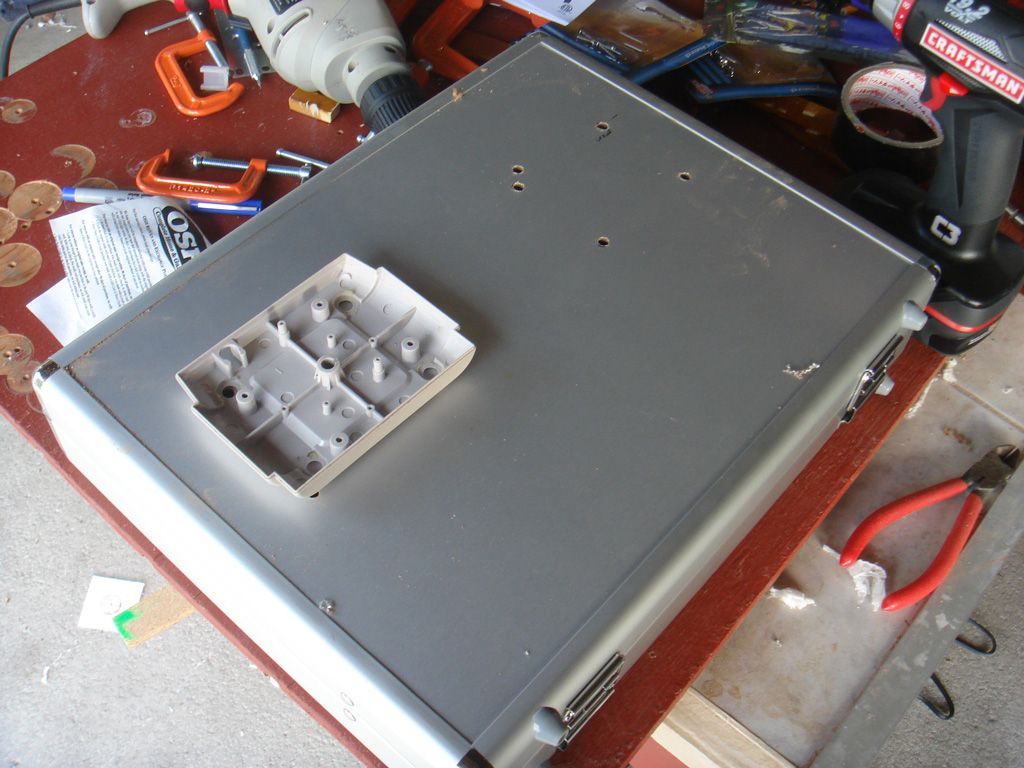 I took the bottom plastic body's of one of the quickshot joysticks and using a ruler and a sharpie, marked out the mounting holes. And drilled using a 1/4" drill bit. The bolt sized used was 1/4 sized machine bolts flat head. Before drilling, you want to use something like a drill punch to create a small dimple to keep the drill bit sliding around. In this case I spun a plastic sheet cutter for this, but i'm sure there are better tools for this.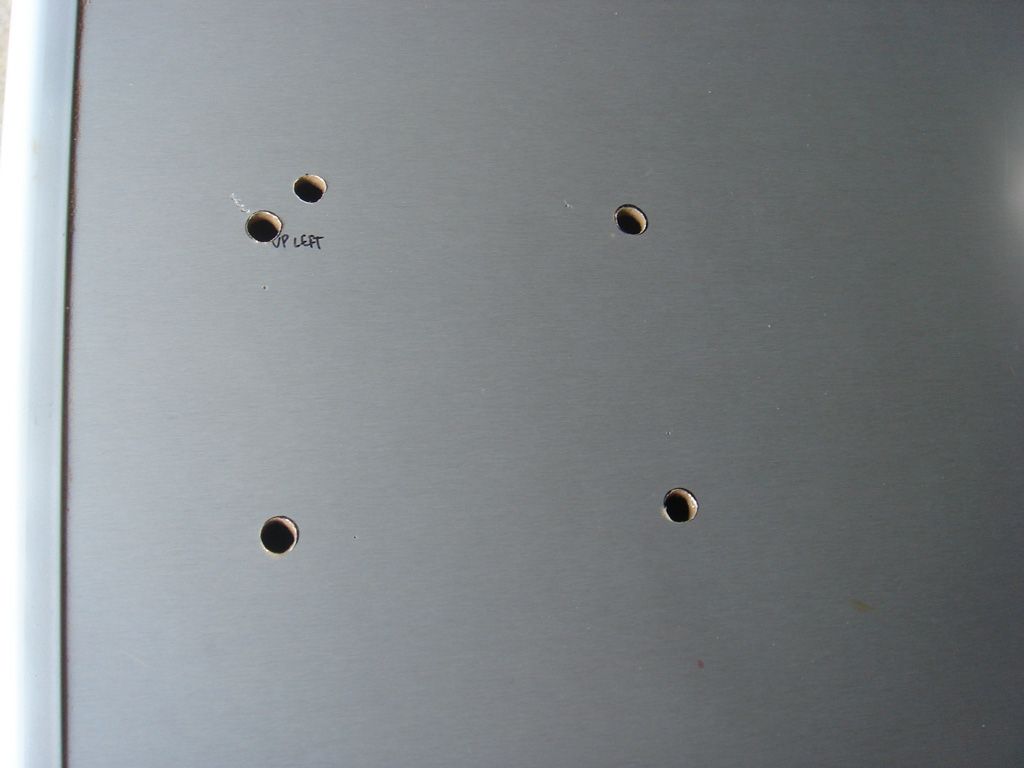 I then put the bottom piece back down and used a compass to punch little holes to mark the screw access holes and used a sharpie to mark the cable feed through hole. I used a 7/16" drill bit and drilled the holes.
I repeated these steps for both sides.
I then marked off the holes for Start, Guide and Back and drilled them. I used a 24mm Forstner bit.
All of the holes. Smaller ones for mounting and larger ones for accessing the screws to bolt the joystick encasing together. Also the cable cords.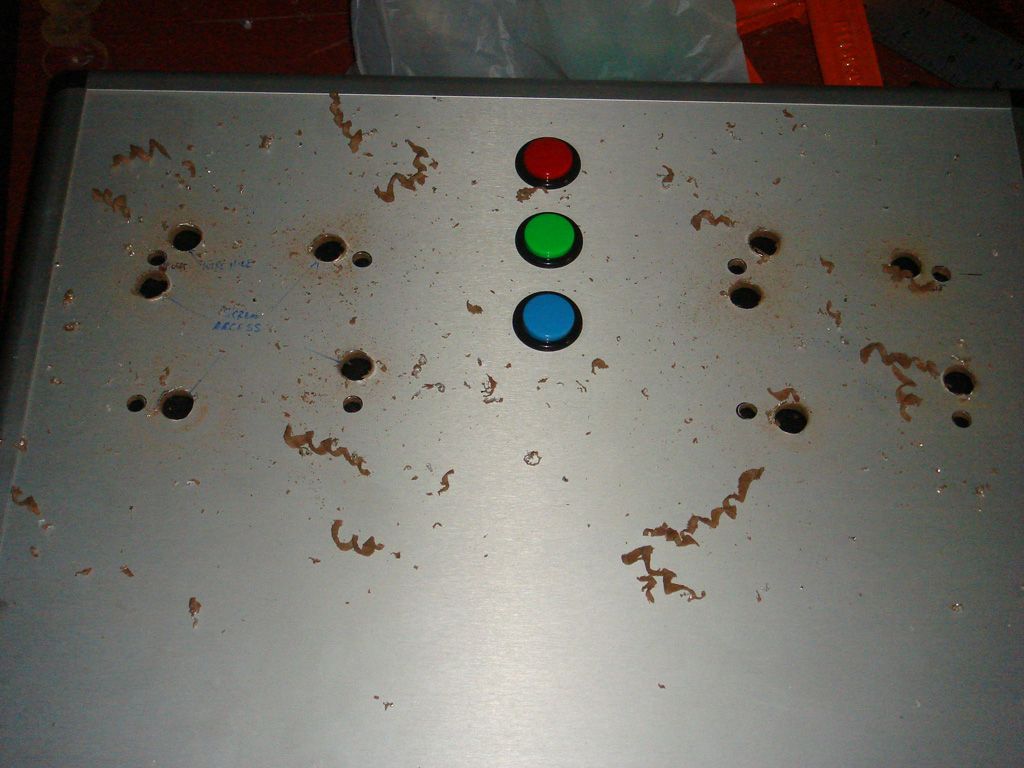 I also used a 20mm drill bit to drill a hole on the top of the case for the usb cable.
Now before installing the joysticks on top, I wanted the cables to be covered. This is completely optional. I used a small amount of wire sleeving to gather the wires together and put heat shrink tubing to cover the ends.
I'd gather the wire and slide it through, and use a lighter to shrink the tubing.
Now the hard part. Getting the joystick back on top of the plate. If you have not already you need to bolt the bottom plate into the case first. Then push the cables through the hole.
Then put the joystick back together. This will take a while and you have to be careful of a few things. The wires for the trigger and thumb need to go into the notch, and you also have to make sure the turbo button slider comes together correctly. When you finally get it put together, screw it together from the bottom of the case. Then you repeat for the other side.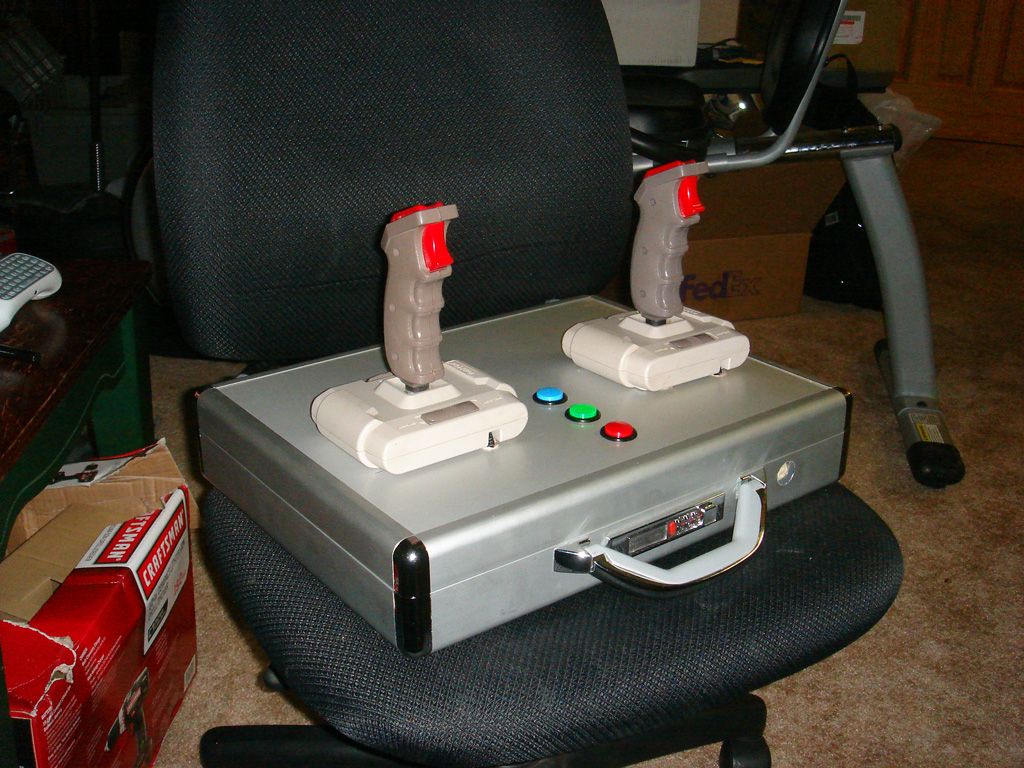 I had a PCB already pre hacked with a eurostyle terminal strip so all I had to do was atttach the correct wires together to use with Virtua On Type C layout where the D-pad is the left stick, face buttons the right stick, and the bumper and triggers where dash and fire.
Ran it and tested it.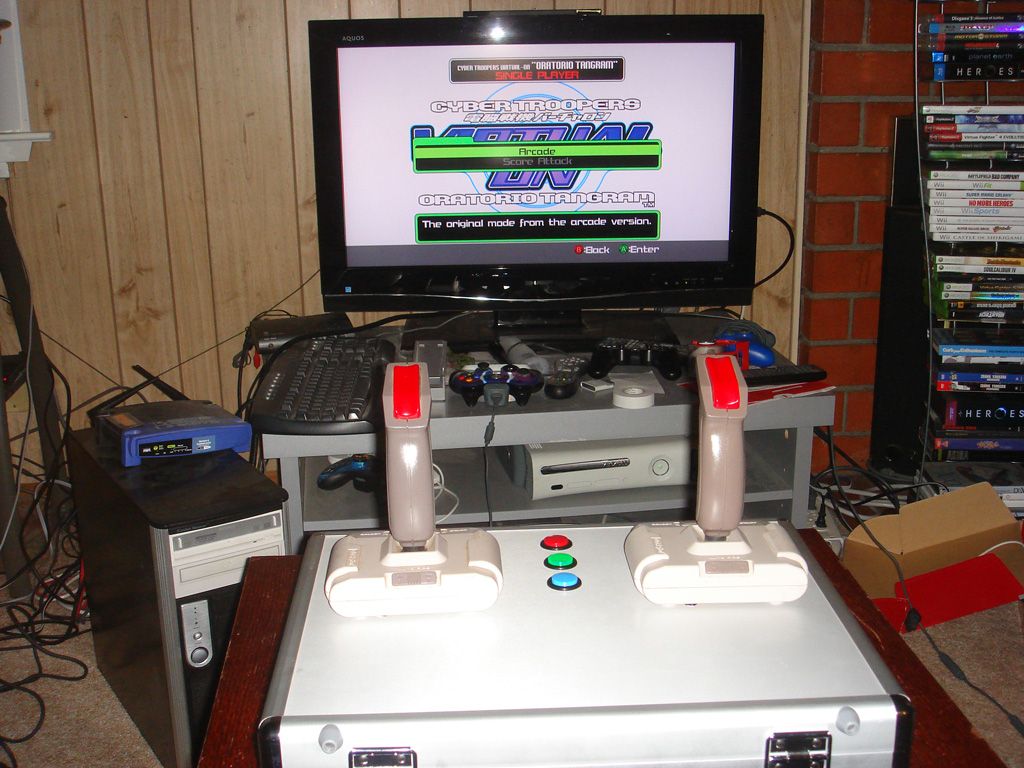 Some problems with the left trigger constantly firing, but sure it has to do with turbo or wiring, but as far as movement was concerned they worked like a charm. Need to open it up and dig around.
Next up, cleaning the plastic and using vinyl dye on the joystick, and now looking for toys to cut up and bolt on to the briefcase make it look like something that would would be actually used to pilot a virtualroid.
End of part one of worklog.
Worklog 02 (Small Update)

Found out the problem. Trigger hack resistors where oriented the wrong way. Fixed. Also pictures of messy inside wiring.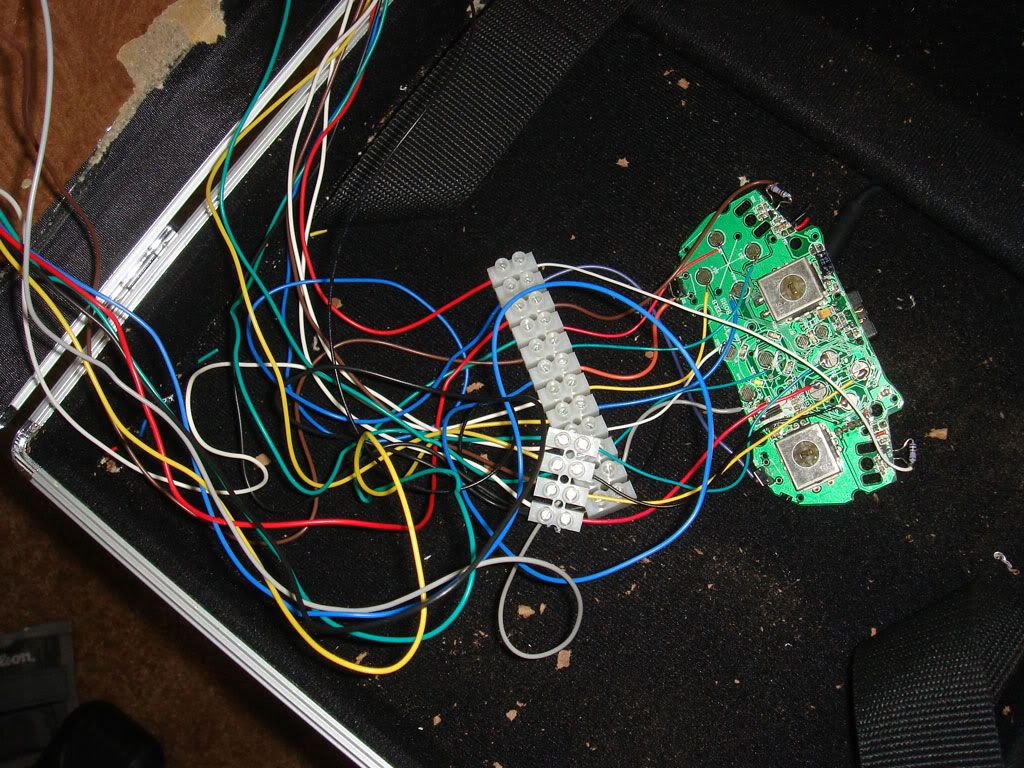 Thinking of making it work for Saturn as well. Any idea how to get sawdust out of Velcro?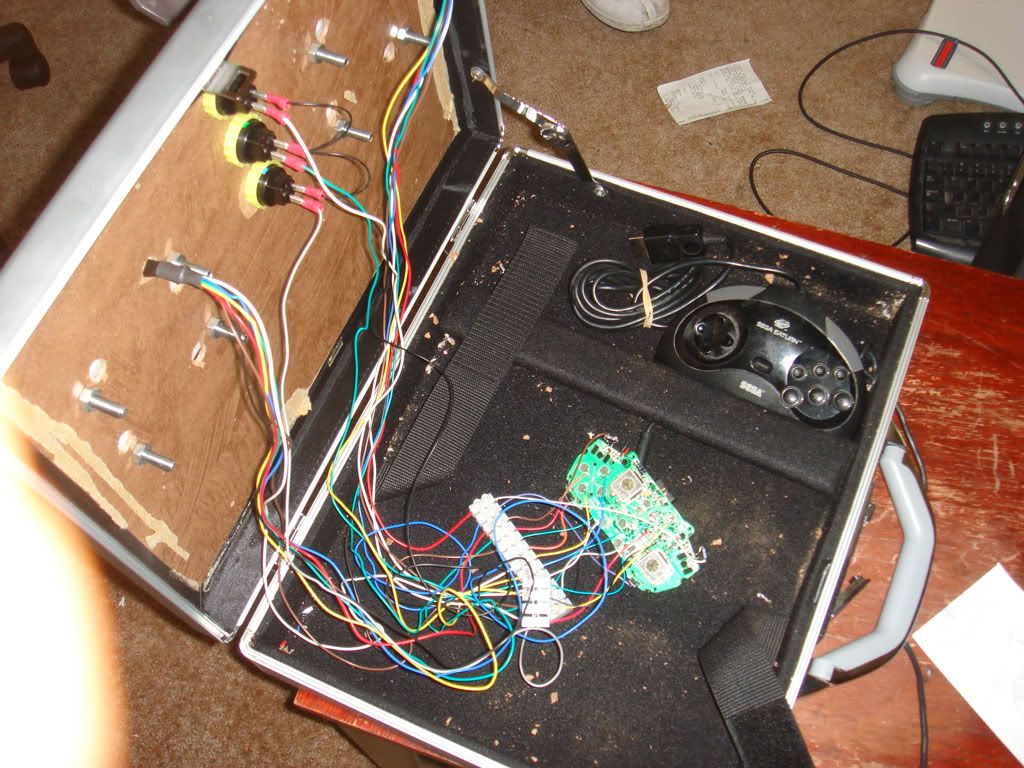 You tube video of these working:
http://www.youtube.com/watch?v=HHnWX3vusew